At the beginning of 1966, in fact on Monday the 31st January we supported the 'Who' when they played at the Coed Eva Community College in Cwmbran. This was another of the numerous promotions of Maurice Wight. The 'Who' were originally due to play in a Youth Centre in Newport, but the venue was changed, probably because Mo Wight thought the Newport venue too small.
The 'Who Concert File' by Joe McMichael and Irish Jack Lyons still mistakenly shows the venue as Newport. It wasn't, as I was there on stage at Coed Eva playing with the Pieces of Mind and the Right of Man as the support acts. The singer of the Right of Man, Anton Roelands, would later join Andy and me in the Waterfield ISE group.
The version of the Pieces that played was Adrian, Phil, Percy and myself. I can't remember much of the gig, other than I remember we played 'My Generation' just as members of The Who arrived at the side of the stage. They probably thought we were extremely cheeky to do this, but it was something we did quite often when supporting 'name' groups. 
Obviously when they played it, our version was made to look quite amateurish, despite the fabulous bass solo from Percy. When we finished our set and went backstage to the dressing area, which I believe was the gymnasium; The Who seemed to be entertaining numerous girls, many of them within the toilets at the end of the room.     
Mo Wight had arranged to get a load of the My Generation album covers, and arranged for the group to sign the backs, so he could sell for 10 shillings, which was a lot of money, in fact just less than the ticket price of 12 shillings and 6 pence. My girlfriend Jackie, who came with me to the gig managed to get one and that's the only personal memento I have of the gig.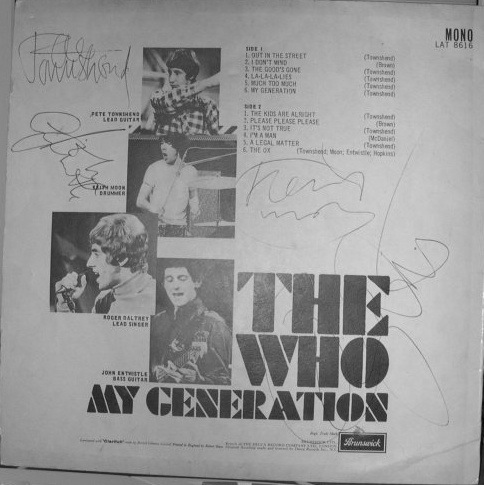 Adrian and John Beardmore both managed to get posters signed, however John gave his to Will Lowe, so it's somewhere in Australia. Adrian brought his copy across from Spain, in June 2013, and John has managed for it to be copied, after a little restorative work. So I now have a good copy of the poster and in September 2013 we got t-shirts printed.
Many of those who attended the 50
th
Anniversary Reunion gig, held on the 26
th
April 2013, also attended the 'Who' gig in 1966. At the reunion, in April 2013, I heard many stories from people about the gig. Jerry, the 14 year old younger brother of our drummer Phil, was in the gymnasium and managed to speak to all 4 of the group, who he said were very friendly.
Susan Smith and her friends caught a bus from Newport to Cwmbran and once they got into the hall, they congregated to the left of the stage and then made a beeline for the centre when The Who came on. One of The Who threw out a guitar string and a plectrum, which was supposedly caught by her group, though none of them remember who had them or where they are now.      
At one stage during the evening a fight broke out which included a boy, they knew from Cwmbran, who was a few years older than them. They missed the bus home and ended up having to walk all the way back to Newport and she was sure they didn't tell their parents that. For those who don't know the area, that must have been 6-8 miles, depending on where in Newport they lived.
A really enterprising story was from Geoff Cartwright, who worked in a factory in Caerleon, called Brades, who made garden tools for Spear and Jackson. It was his first job after leaving school. At the time of the concert he was friendly with a person who played for a local band and who also worked with him in Brades. His friend mentioned that if you joined the local weight lifting class there was a good chance of being asked to assist with crowd control.  Geoff weighed about 11 stone, soaking wet, and because he was a rugby player, he joined. His friend and he were picked and both went to the gig. He knew Coed Eva well as it was virtually the same as Croesyceiliog School, which he went to and they played each other at rugby.
The actual evening was a bit of a blur for him as they were positioned right in front of the stage. He said whilst they had the best view, they were supposed to be looking out to the audience. However his outstanding memories were of Keith Moon smashing his drums up and throwing them about the stage and Pete Townsend wrecking his guitar by banging it against the stage floor. He said the girls in the audience were going mad and he had never experienced anything like it. Afterwards they were guarding the dressing room and Keith came out in a fur coat and was quite chatty.
Geoff said for a 17 year old, who has been very lucky in life it is certainly one night he will never forget and was his first and last time as a bouncer. His children have difficulty believing that The Who would have played in such a small place as Cwmbran.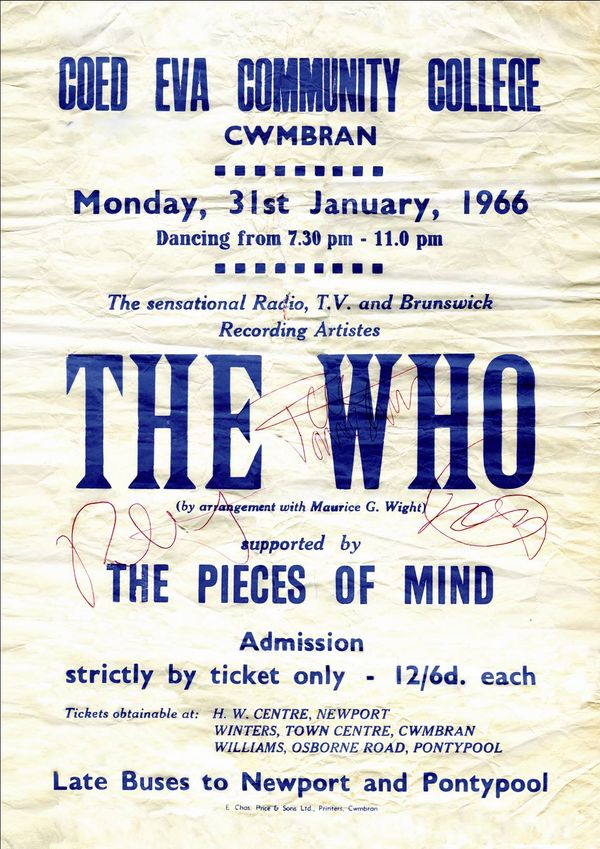 After The Who gig I decided that Andy, who had re-joined on bass when Percy left, and I should have speaker cabinets that looked more impressive than the ones we were using. I was still using a Vox AC30 and I think Andy had a Selmer bass amp. We went to a hardware shop and bought several sheets of '8x4' chipboard in order to make a couple of cabinets to house Fane speakers in each.
Today, in 2013, Fane Speakers seemed to have acquired almost cult status amongst guitarists, but to be honest, in the 60s; we bought them because they were cheap, not for any supposed tonal qualities. I read similar stories, raving about equipment we used we used back then. Watkins Dominators were not great amps; in my opinion they sounded awful, but because they had an unorthodox shape and colour, people seem to think they must have been great.
Modern guitars and amplifiers are far better made than those we had access to. Would I like to still have the guitars and amplifiers I used in the 60s?  Of course I would but it would be for sentimental or monetary reasons not for how well they sounded or played.
Anyway, back to building speaker cabinets. Glyn remembers them as being 6 foot tall, but I believe they were 8 foot purely because it would have saved us cutting the chipboard. The first versions were 8 foot tall, 4 foot wide and 2 foot deep and contained 4 speakers in each cabinet. I think we managed to get the speaker wiring correct for the, probably 16 ohm speakers we used. They were certainly all in phase as it was then that I learned the trick of attaching the speaker wires to a battery to check the polarity.
The cabinets were certainly unwieldy and a pain to transport as they nearly filled the van we were using. We tried fitting castors, but they kept breaking off, so we cut the cabinets in half, probably horizontally, however, it could just as well as been vertically. In the end, I sort of gave in and agreed that we should go back to more manageable cabinets.